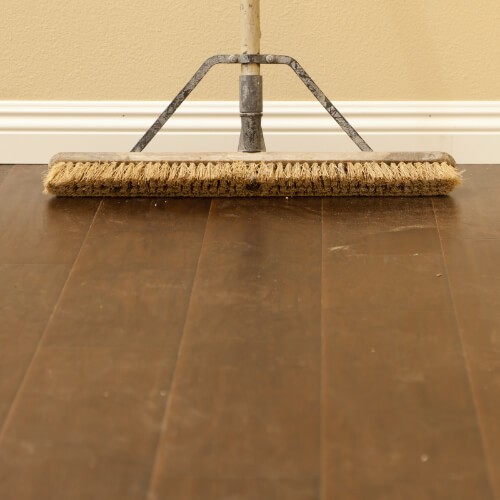 Daily care & maintenance
Be mindful of preventative maintenance for your new hardwood flooring; frequently trim your pets' nails and remove high heels and heavy boots before walking across the floor. Since hardwood flooring is also sensitive to the indoor climate of your home, use a humidifier during the dry heating season and run a dehumidifier during inclement weather. To protect your hardwood floors from dents or indentations heavy furniture can leave over time, buy floor protectors. Layered looks are also in style, so you might consider adding an area rug on top of your hardwood flooring to protect and enhance the interior design. 
Everyday cleaning should consist of sweeping, vacuuming (without a beater bar) and dry mopping your hardwood. You should never use a wet mop on your flooring, as hardwood is very sensitive to moisture and doing so could void your warranty.
Dealing with spills
Occasional spills and stains are inevitable, especially if you have pets or kids. With hardwood, most liquid spills will wipe away with a cloth. You'll want to do this as quickly as possible, as hardwood flooring is not water-resistant. Other spills, such as wax or nail polish, are more complex. Check with your manufacturer's care instructions before attempting to tackle these!
If you decide to use any cleaning products on your hardwood, make sure they are manufacturer-approved and be sure to follow all instructions on the product label to ensure best results.